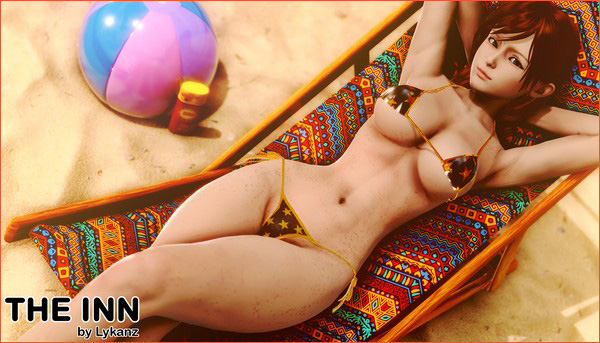 The Inn tells the story of down on his luck kind of guy. He's been living by himself in the big city ever since his father kicked him out of his house at the age of 18. He really lives a miserable life… But it's all about to take a 180º turn when he meets a certain person one night…

Changelog
v0.08.06
It features 2 new events that explore a bit more of Luana's weird feelings towards the protagonist.
I even sneaked some bits of fat cat lore in there.
v0.08.02
1 new event
Added a checklist feature to the Navigation System (Normal Mode)
Remade the animation for the Main Menu buttons
Reworked the Quicksave Menu
v0.07.09
Ninth and Final Beta for 0.07
Conclusion of the events for Joana's update
One new event
New options at the Replay screen
You can now unlock all replay scenes in the Gallery
Can do one more Movie Night at Joana's house
Added a second location for saves in Android builds
Added a new option for Val's path during movie night
Added conditional dialogue to Joana's path during movie night
Added an "In Progress" visual hint to the girl selection screen that shows up when a girl day is still being developed
0.07.05
Continuation of the events for Joana's update
2 new events
0.07.04
Continuation of the events for Joana's update
2 new events
0.07.03
Continuation of the events for Joana's update
3 new events
0.07.02
Continuation of the events for Joana's update
3 new events featuring Val, Linda and Luana
0.07.01
Start of Joana's focused update
2 new introductory events
0.06.10
Polishing and tweaking update.
Profile Backgrounds, Pictures and Clothes for Cindy and Jessica.
Wardrobe code, icons and previews for Cindy and Jessica
New clothes added for Val (3 Clothing, 1 Swimwear)
New clothes added for Main Character (1 Clothing, 1 Swimwear (dependant on player's choices))
Reworked the way the Wardrobe System works so clothing previews are displayed even if the character doesn't have the required Affection, Lust or Karma points to wear them.
Revised Wardrobe System Tutorial to reflect the new changes.
Added Edgescrolling to the massage minigame (better late than never, right?).
Added missing Event Log Thumbnails for 0.06 events.
Added conditional navigation flavor text for the entire update.
Added replays for the entire update in the Replay Gallery.
Added Sound Effects and Background Music for the entire update.
Added a new field to the Preferences Screen that let the player change the speed in which the dialogue animation plays.
v0.06.6
This Beta brings 2 new events!
One of those events brings some more backstory on Cindy and her relationship with Val and the other one gives us some insight on Val's personality, showing a side of her that isn't often seen.
This update also moves in to the last part of the weightlifting competition and to the final portion of the update overall.
0.05
What's up my dudes and dudettes?
So, here we are huh? The day has finally arrived!
It's with great joy that I bring you the official release of the v0.05 update for The Inn!
This update The Inn is quite special for two reasons:
1 – It's the first update that brings new content to the game since November 2018 and the dreaded Halloween Special. Sorry for the long drought.
2 – To be honest, the technological jump that this update has from v0.04, or even from Beta 4, is astounding.
This update also brings major changes to game mechanics, image quality and QoL additions. I won't talk about them here because that would only make this post bigger, but you can check the development update posts I made!
Also, while this update is fully compatible with saves from Beta 4 and you'll be able to enjoy it to it's fullest from them, I'd highly recomend you to start a clean, new game to enjoy all the new Quality of Life additions from the start.
The main element of this update is content for the entire Day 9 of the story. It comes with 9 events that span throughout the entire day (one of them even has 3 different variations)!
0.04
This update IS short.
– Finished content for The Inn Day 8
– Introduced Joana, Luana and Valentina
– Update the galleries for current content.
– Reworked some of the gallery buttons, made them more visible
0.03
– Started introducing MC's childhood acquaintances (they'll be properly introduced in the next update)
– Added content and story progression up to half of Day 8
– Changed the text boxes to transparent ones
– Added brazilian portuguese translation for the entire update
– Converted all the images to .webp, resulting in a much smaller file size than it would normally be
– Added an entire clothing store sequence with random peeping (5 in total) and glory hole (3 in total) scenes
NEW IN THE GE VERSION:
This is something I've been working on the last couple of days and features a reworked Main Menu and an Extras menu.
The Extras menu features the Pictures, Music and Scene Replay galleries, they are as follows:
Pictures Gallery: contains all the pin-ups released so far.
Music Gallery: contains all the music features in the game.
Scene Replay Gallery: lets you replay certain scenes of the game The Inn.
To unlock the scenes on the Scene Replay gallery you will have to replay the game again to get the variables set (you can easilly and quickly do that with with the skipping function (hold Ctrl).
0.02
– Added The Inn Day 6 of MC's adventures
– Introduced the character Linda Mae, MC's first potential love interest
– Started working with imagebuttons
– Added a small feature so you can jump straight to Day 6
– Changed some aspects of Mr. Jacob's dialogue on Day 2
– Added a failsafe variable on Day 2
– Added scrolling credits at the end of the update (just wait a little if you wan to see them)
– Fixed some typos on Days 2, 4 and 5 content
– Added a lot more of my bad jokes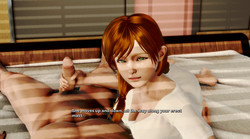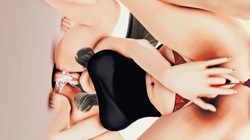 Release date: 2023-06-02
Genre: 3dcg, ahegao, animated, big ass, big tits, creampie, footjob, groping, group sex, handjob, harem, humor, incest, lesbian, male protagonist, masturbation, milf, oral sex, romance, sandbox, stripping, teasing, titfuck, vaginal sex, voyeurism
Censorship: No
Developer / Publisher: Lykanz
Platform: Windows, Linux, Android
Version: 0.08.06 + Ipatch
Language: English, Portuguese
Size: 5.78 GB
Download Keep2Share
Download Turbobit
Download Hitfile
Сообщение The Inn [v.0.08.06] появились сначала на Ero Games.